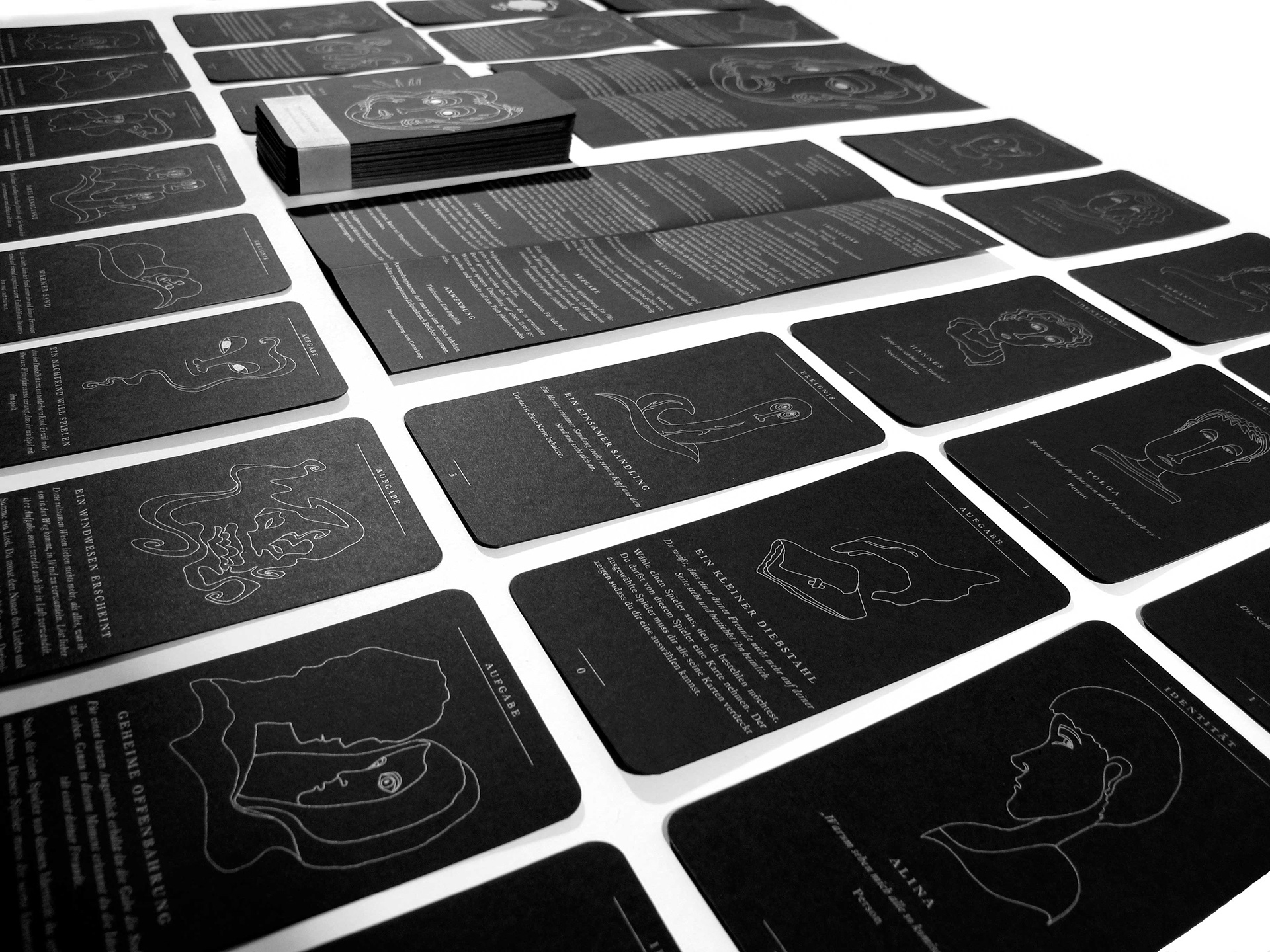 Seelenwandler
Das Kartenspiel
Das Spiel "Seelenwandler" bietet eine spannende fremde Welt, in der die Spieler, alleine und im Team, Aufgaben lösen und sich selbst und ihre Mitspieler auf eine ungewöhnliche Weise neu kennen lernen.
Zu Beginn des Spiels bekommt jeder Spieler eine eigene Identität, die ihn zu einer der beiden Gruppen, Seelenwandler und Personen, zuordnet. Es gilt heraus zu finden welche Spieler zur eigenen Gruppe gehören, diese zu unterstützen und Punkte zu sammeln. Dabei ist der Spielverlauf jedes Mal anders, da die Karten zu Beginn immer neu gemischt werden und das Spiel zuende ist, wenn die Karte "Silbernes Mondlicht" drei Mal gezogen wurde.
Sowohl die Spielmechanik, wie auch das Design habe ich 2013, im Rahmen der Muthesius Kunsthochschule entwickelt. Die Spielkarten wurden in der hochschuleigenen Druckerei, mit der Spezialfarbe Silber, Offset gedruckt.

Das Spiel wurde bei der jährlichen Hochschulausstellung der Muthesius Kunsthochschule Einblick/Ausblick 2013 präsentiert.


Links:
www.muthesius-kunsthochschule.de
EN//
Soulwalker
The Card Game

The game "Soulwalker" offers an exciting foreign world, in which the players, alone and in a team, solve tasks and get to know themselves and their fellow players in an unusual way.
At the beginning of the game, each player gets his own identity, which assigns him to one of the two groups, Soulwalkers and persons. It is important to find out which players belong to your group, support them and collect points. The course of the game is different every time, because the cards are always shuffled at the beginning and the game ends when the card "Silver Moonlight" has been drawn three times.
I developed both the game mechanics and the design in 2013, within the framework of the Muthesius Academy of Art. The playing cards were offset printed in the university's own printing shop, using the special colour silver.
The game was presented at the annual university exhibition of the Muthesius School of Fine Art, Einblick/Ausblick 2013.